<![if !vml]>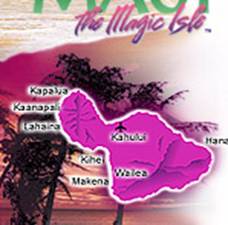 <![endif]>
Maui also known as "The Valley Isle" will be an adventure you'll long remember!
MAUI SKYLINE ECO-ADVENTURE
Imagine yourself soaring over gulches and through the trees along the slopes of one of the world's largest volcanoes. An adventure that blends a short hiking experience with four picturesque zipline crossings, the Haleakala Skyline Tour promises to be one of the most memorable activities you can do on the island of Maui.
A perfect adventure for anyone over twelve years of age, the Haleakala Skyline Tour has something for the everyone. Our specially trained staff will outfit you with a customized seat harness and equipment before leading you into the woods, and on to the adventure.
The tour starts with a walk through the woods in beautiful upcountry Maui, then gets your heart-pumping as you sail across each of our ziplines, and get a bird's eye view of the seasonal waterfalls and vegetation below. Take part in this one-of-a-kind adventure, and bring home memories of an experience that you'll talk about for years to come. Safety is of utmost consideration. All equipment exceeds industry standards.
MOLOKINI MORNING SNORKEL
This 53' submarine style glass bottom, two-deck catamaran Four Winds, has been dubbed "the boat of the fun-lovers." It's no wonder! Explore crystal clear water and colorful reefs (Molokini or Coral Gardens). Observe breathtaking underwater marine life on Maui's most unique glass bottom catamaran, which is the only boat with two glass bottom hulls for spectacular underwater viewing! Our naturalist gives a marine presentation about Maui's exotic fish and coral. Of course, don't forget that our experts who will assist you with your snorkeling lesson. As soon as you're done with your lesson, you're ready to hit the water. December through April is Whale Season, and a marine naturalist accompanies our afternoon snorkel!
TRILOGY'S SAIL AND SNORKEL
Sail aboard Trilogy V. Enjoy a continental breakfast with homemade cinnamon rolls, Kona coffee and fresh fruit platter. Swim and snorkel at two of Maui's exceptional snorkeling sites, including a Marine Preserve (weather permitting). A hot BBQ lunch will also be served before sailing back to Maalaea. All meals, snorkeling lessons and equipment included in price.
TRILOGY'S ULTIMATE LANAI PARADISE
Get an early head start and sail the gentle trade winds to the Island of Lana`i in style! You'll be pampered in luxury as you sail the channel between Maui and Lana`i. A continental breakfast is served onboard your vessel as you sail over to the island of Lana`i.
Blue water rafting adventure is in store or where guests will snorkel right off the Manele Kai raft or partake in a jeep safari exploration on the island of Lana`i.
So, come join our daily voyage of discovery and see why even King Kamehameha chose this coast of Lana`i as his private playground! An exotic Hawaiian All-You-Can-Eat Barbecue Lunch, complete with china and silverware is waiting for you at Hale O Manele! This is a first-class experience all the way!
HALEAKALA HORSEBACK RIDING ADVENTURE
Come ride with us through Eucalyptus forests, sparkling green pastures as the West Maui Mountains rise in the distance. This is an experience the whole family will enjoy. Come share a morning, afternoon, or sunset ride with our guides as they "talk story." The Ranch and Riding Stables sits 3,700 feet above the pristine Pacific Ocean, on the gentle slopes of Haleakala, the world's largest dormant volcano crater. If it is adventure you are after, let us create a ride just for you. Ride through the Haleakala Crater and be a part of nature's finest works of art! Expert wranglers supply everything you'll need, plus the priceless knowledge of the "Kama`aina" and "paniolo" way of life.
HORSEBACK RIDING ADVENTURE
The Mendes Ranch was homesteaded in the 1940's. It has now grown to over 3,000 acres, with over 300 head of cattle and 50 horses. The breath-taking trail ride is across a working cattle ranch and will be journey you will never forget. The ride will take you through rolling pastures up into the lush tropical rain forest of Waihe'e Valley. View down into the Eki Crater, one of the wettest spots on the planet. See some of the tallest waterfalls on Maui and its rugged shoreline The ranches exceptionally trained horses.
Aloha Coastline Adventure Ride
Experience an unforgettable journey of Maui's most spectacular views on Horseback! The journey begins at a working ranch where real Paniolos (cowboys) will greet you. Canter up green pastures to the edge of a lush tropical valley and discover some of Maui's largest waterfalls. Get a glimpse of the past as you ride into the magical Waihe'e Valley with its Hawaiian plantation homes and taro patches. Through grazing cattle to the crystal blue waters of the Pacific Ocean, where we will be glad to take a picture of you on horseback with the majestic seascape as a background.
MAUI NO KA OI'S HELICOPTER FLIGHT
Hana/Haleakala Special
This excursion offers generous views of Haleakala's magnificent crater. Haleakala's moonlike surface spans over 6 miles across, large enough to accommodate the entire island of Manhattan and more.
Travel through Maui's most remote areas with views of Hana Town, The rainforest of Hana unfolds like a rolling carpet. Seven Pools, fabulous coastline waterfalls and world famous Ho'okipa windsurfing beach on the return. Our most popular tour. (Approximately 45 minute flight.)
EXPLORING EAST MAUI
Our experienced state certified local tour drivers have driven this tour many times and put in the extra effort to provide an enjoyable experience for the guests. First, you will enjoy a leisurely scenic tour of Maui's "upcountry" with a stop at Tedeschi Winery to see and taste Tedeschi's exquisite pineapple and grape wines. Next you will drive along Kaupo Gap where you get to see the backside of Haleakala as you tour around to Ohe'o, Kipahulu (Seven Pools).
A buffet lunch at Hana Ranch Restaurant is included in your tour. After lunch you'll stop at Wainapanapa Park to take in its majestic views and learn about the legend of Wainapanapa. The drive out of Hana is one of soaring vistas, winding along the ocean past black sand beaches, isolated fishing villages, old lava flows, lovely waterfalls, dense jungle growth and groves of mango, monkeypod, bamboo and many other varieties of trees. There are frequent stops at many points of interest and waterfalls. You will return to the hotel with unforgettable memories of your Hana experience. Don't forget your cameras!
BIKE DOWN MOUNT HALEAKALA
A beautiful day in Maui and its time to take the bike ride of your life! From the lunar landscape at the crater of the mountain whose name means, "House of the Sun," your specially equipped downhill bike will take you on a trek from the 10,023-foot summit to the sea! Feel your heart pound with excitement as an expert guide carefully leads you through 38 miles of Haleakala National Park. You'll discover Maui's unique plants and wildlife as you coast down to green pastures, ranch lands, and forests of pine and eucalyptus trees. This exciting bicycle safari is completely safe for novice and expert bicycle riders.
Equipment
Custom state-of-the-art Worksman Chrome Cruiser bicycles (both men and ladies available), Bieffe helmets, Columbia Sportswear windbreakers (jackets and pants), and gloves.
Tips for your Journey
Wear warm clothing, dress in layers, closed toed shoes, sunglasses and camera recommended. Height requirements is 5-feet and riders must be at least 12 years old, no beginners or pregnant women PLEASE
Sunrise Departure Time – 2:15 AM – 12:30 PM
Mid-Day Departure Time
– 6:30 AM – 2:30 PM
IAO VALLEY AND MAUI OCEAN CENTER
I'ao Valley, a magical place considered so sacred in ancient times that Maui's highest chiefs' were secretly buried here. The park contains its own grandeur. Soaring green mountains and strands of clouds give the park certain majesty. Near the center of it all is 2,250 foot 'Iao needle, a sharp-rising and heavily eroded peak that forms a dramatic centerpiece for the park. Trail leads up to the top of a ridge for a closer view of the Needle, and down to the stream through a variety of exotic foliage. It is easy to see why Mark Twain called this area, "the Yosemite of the Pacific."
Maui Ocean Center
Walk through a transparent underwater tunnel and come face to fin with tiger, gray sharks and other species found in the deep channels surrounding the Hawaiian Islands. The Reef Building also reveals the fascinating tropical coral reefs & animals, many found only in Hawaii. Stories of Hawaii's native people and their relationship to the sea and our island mythology. There is also an entire interactive museum dedicated to our winter visitor...the Humpback Whale.
OCEAN RAFTING ADVENTURE
An opportunity to explore a rarely seen part of Maui, The Volcanic Kanaio Coast offers variety of remote exotic snorkeling sites and abundant marine life.
Passengers can expect a rare treat as they tour along Maui's Gold Coast past Wailea and Makena to a remote and inaccessible coastline with spectacular views of the slopes of Mt. Haleakala. About 200 years ago at Kanaio, molten lava exploded from a side vent and poured into the ocean forming incredible lava arches, grottos and sea caves. The experience of entering a sea cave by raft or passing through a massive lava arch should not be missed! (condition's permitting) Photographers will delight with the array of unique formations that await at every turn.
At La Perouse Bay, we frequently encounter schools of spinner dolphins, including babies, along the way or in the bay it's self.
Makena is where we serve a delicious buffet lunch and snorkel with sea turtles and spotted eagle rays near pristine lava fingers. These turtles, although endangered and protected, are accustomed to seeing snorkelers and do not mind being photographed as they surface for air just a few feet away.
UKUMEHAME KAYAK & SNORKEL SAFARI
Guest will launch site at mile marker14 of Highway 30. Guests will get fitted with snorkeling equipment for their "snorkel safari". This area provides easy paddling while enjoying the breathing views of the Ukumehame Valley. Once in the water, they will discover beautiful coral teaming with sea-life as well as the friendly turtles of the area.

MAUNA LEI ARBORETUM HIKE
An incredible rain forest wonderland nestled above the world famous Honolua Bay and below the coveted summit of Pu'u Kukui. Within minutes of Kapalua this extremely private playground of D.T. Fleming is now available for private guided tours. This adventure provides an explosion of the senses. Trees and flowers that have been collected from around the planet surround you from every angle. One of the many fascinating sites are the Bo Tree that are a descendant of the tree that Buddha found his enlightenment under. There is even an example of native reforestation to be experienced. A continental breakfast with fresh fruit, muffins and hot coffee along with bottled water and cookies for later are all included.
SCUBA DIVING OFF OF SOUTH MAUI
Come enjoy a two-tank dive off of Maui's beautiful southern coast. Dive sites may vary with the season and ocean conditions. We have over 30 sites in the area so we are sure to find the right experience on the right day.
The "Pilikai" (embrace the sea), is a new 38 foot Munson with twin engines, marine head and spacious deck. A broad swim platform, fresh water shower and large shaded area add to its comfort. We take twelve divers on the boat; however, the divers are split into two groups of six for a peaceful, un-crowded experience underwater.
UPCOUNTRY WINERY AND LUNCH
Haleakala, the "House of the Sun", is spellbinding, Haleakala is the world's largest dormant volcano. Today guests will enjoy a leisurely drive though the upcountry areas of Pukalani, Kula and Ulupalakua located on the slopes of majestic Haleakala. Breathe the crisp, clean, cool air and see the panoramic views of the North Shore, South Shore, Central Maui, West Maui Mountains and the neighboring islands of Molokini, Kaho'olawe and Lana'i.
Our destination will be the Tedeschi Winery, located within the 27,000 acre Ulupalakua Ranch, for a private wine tasting and tour of the facilities. A guide will take guests through the winery and explain how Maui pineapple wine, as well as the more traditional grape wines processed and bottled.
From the winery we will head to Hali'imaile General Store located at the pleasant elevation of 1,200 feet up the slopes of Mount Haleakala for lunch. The beautiful refurbished warm, peach-colored building is food-lovers' haven! Magnificent work by local artist adorns both the bright bustling front dining room and the cozier, more intimate, softly lit back dining room.
Cuisine is eclectic American with international flavors. Excellent chefs prepare delightful, unusual dishes using the very best in island ingredients: from locally grown produce and just-caught seafood to handpicked herbs and tree-ripened exotic fruits.
At day's end, participants will head back to the hotel with fond memories of Maui's unique and beautiful upcountry areas.
EXCLUSIVE HANA CAVE QUEST
Start with a delightful continental breakfast in Paia Town. From here, we journey on the famous road to Hana and beyond via exclusive limousine vans. All day adventure land package allows guests to tour the remote Hana Coast and hike Maui's own "Wonder of the World", the incredible Ka'aleku Cavern (certified non-burial cave). Created by Pele, the Goddess of Fire, this enormous subterranean lava tube resembles a chocolate-covered Lava Cathedral Cave, frozen in time forever! Walk beneath the dense tropical rainforest of Hana through Pele's famous underground passage. Discover elephant's foot stalactites, mounds of chocolate colored lava drops and soufflé -like lava swirls formed over 30,000 years ago. View one of the world's tallest stalagmites, a towering 30-feet eternally protected by the Ancient Guardian of the Cave, whose face was naturally etched forever, high above on the lava sidewall. A huge natural Skylight help see all unique lava formations of Hana down-under.
After the hike guests, delight in a scrumptious beachside picnic lunch, elegantly served on white linen tablecloths and crystalline plates at picturesque Waianapanapa State Park or scenic Hana Bay Beach Park. Lunch includes: hors d'oeuvres, snowflake rolls, fresh fruit, garden salad with papaya seed dressing, rainbow pasta salad with Italian dressing, 1/2 smoked chicken (per guest), dessert and ice-cold soft drinks. After lunch, there's plenty of time to stroll, swim, sunbathe or just relax and enjoy.
Heading back to the "real world", we return from Hana at a "Maui-style" pace. Bring bathing suits and towels to capture a lifetime memory of swimming in a crystal clear, rainwater pool under a cascading waterfall.
HIDDEN ADVENTURES JEEP TOURS
West Maui:
Tour Kapalua and stop at the world famous Honolua Store for snacks along the way. Visit Flemmings Beach, Honolua Valley, Honokahau Bay, Kahakuloa, the Turnbull Gallery and then take a swim in a fresh water pool at the base of Makamaka'ole Falls before returning to the hotel.
Hidden Waterfalls:
Jeep to an area few know about. Take a hike through a lush bamboo forest, rock climb upstream to discover two heavenly waterfalls with pools deep enough to swim in. This jeep tour is a great way to get away from it all and experience the magic of Maui.
UP-COUNTRY ALL TERRAIN VEHICLE ADVENTURE
Discover Maui's unique Upcountry on endless miles of trails on over 18,000 acres of private Upcountry ranch land. You'll experience the excitement of riding through a working cattle ranch, conquering steep pasture trails, exploring high elevation forests all the while witnessing breathtaking views of Maui and its neighboring islands.
One of our favorite spots when weather permits is the 'Lava Cave.' We also commonly see an assortment of Maui's splendid wildlife, distinctive vegetation and indigenous forest. Maui ATV Tours takes great pride in providing tours that take you on a loop so you are constantly seeing new terrain and scenery along the way. We have a wide variety of trail loops that ensures every expedition is a memorable adventure.